We're happy to report we're celebrating our 10th year of business at Tozer Seeds America.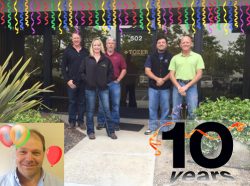 The American division opened in November 2007 as Tozer Seeds expanded its distribution and sales operation to the U.S. Starting with four staff it has grown to five full time staff based in Santa Marta, California, and a sales representative covering the East Coast region.
We are proud to be an innovative and growing company, and we continue to trial new breeding lines, developing key crops such as parsnip, celery, bunching onion, kale and wild rocket, which will be specific for the American climate.