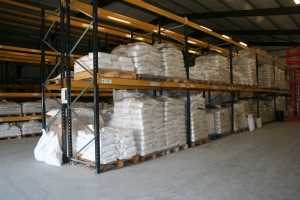 « Back
08-04-2014
We have recently invested in a second warehouse at their Ockham site in Surrey, reflecting the continuous expansion of our business and the increase in sales. The new warehouse provides 1000m2 of climatically controlled environment, ensuring optimal storage conditions for the seed stock. In order to minimise temperature fluctuations, access for stock picking is restricted to a tunnel connecting with the adjoining conventional warehouse, where a new order assembly area operates.
The new warehouse has been extensively racked out, significantly increasing storage capacity. This has enabled us to bring all of our externally stored products on site, which in turn will speed up order handling and reduce delivery lead times.
We recognise the significant contribution this new space makes, in enabling us to satisfy customer expectations for continually improving quality.